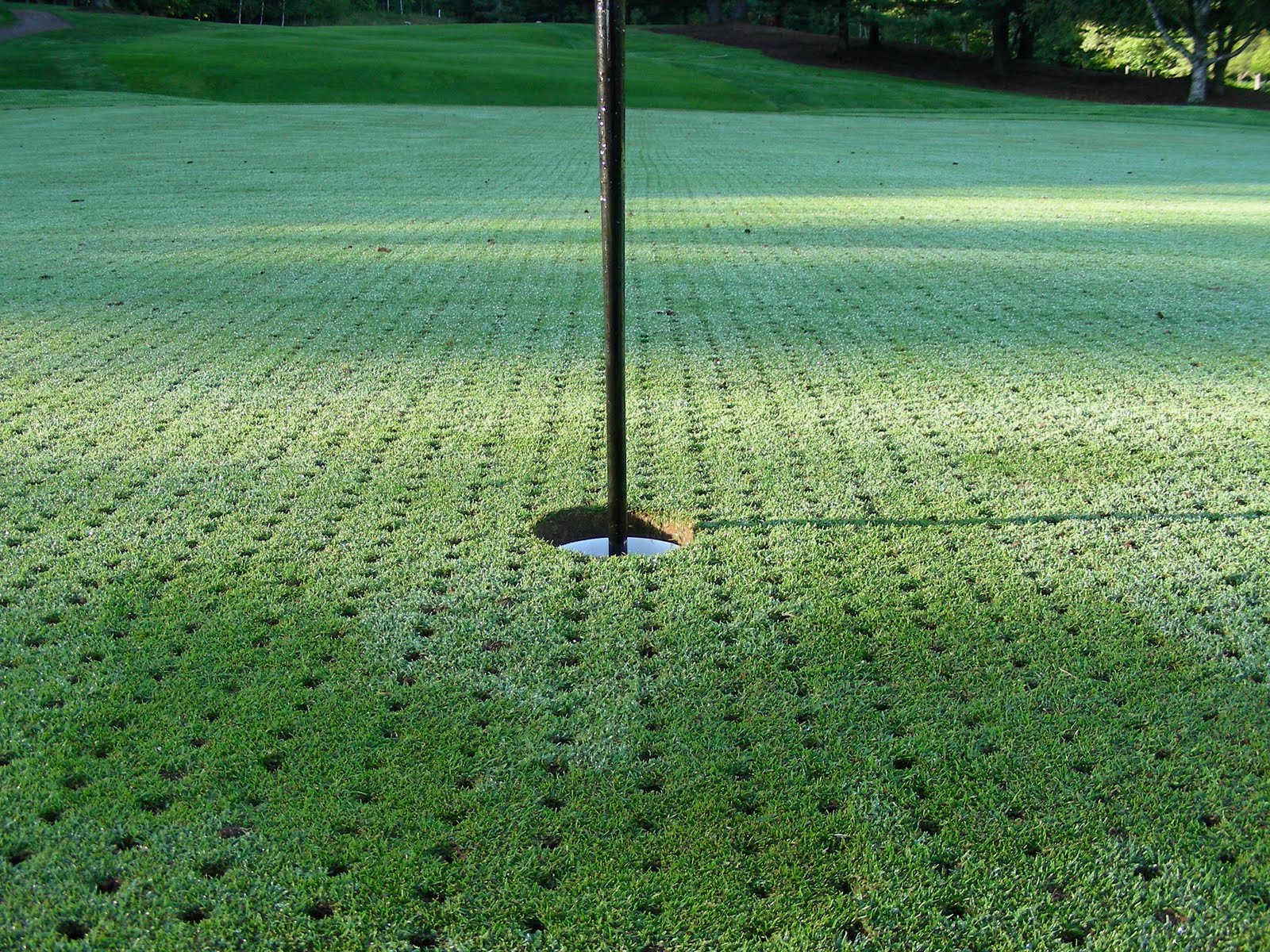 For decades now professional golf course greens keepers have known that the secret to beautiful, dense, lush grass is core aeration in Richfield Ohio.
Core aeration is one of the lawn care practices that are hidden in plain sight. It probably sounds familiar to you (or maybe not), but most people have seen core aeration before. Think back to your sports fields in school. Remember all the little pellets of dirt scattered all over the field? Core aeration.
Core aeration is the process of making thousands of small holes and removing cores from your lawn. The holes greatly reduces thatch and eliminates soil compaction. Core aeration allows fertilizer, nutrients, water, and air to reach the roots. The holes also create room for new seed to get under the surface of the lawn. The result will be new grass growth, as well as increased root development for the lawn. This creates a huge difference in having a thicker, greener, healthier lawn. Core aeration also reduces water runoff, improves resiliency in the turf, enhances heat and drought tolerance.
Thatch is healthy and natural occurrence in your lawn. When it becomes over a ½ inch thick it becomes a problem. Core aeration removes the plugs of soil and thatch from your lawn and deposits them on the lawn. By plugging holes in the lawn it completely removes thatch in those areas and begins to thin the other areas of thatch. As the plugs melt back into the lawn, the soil mixes with the thatch and speeds up the process of decomposition. The Microbes in the plugs breakdown and start decomposing the other thatch on the lawn left behind.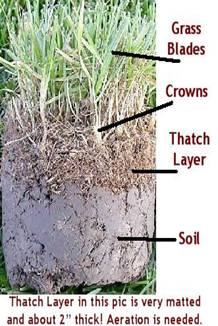 Though some homeowners will try to aerate with spikes, core aeration is done with a gas powered core aerator. According to all major studies, using spikes do not work because the process doesn't pull the plugs out. It just makes small holes in the soil, which doesn't relieve pressure on your lawn or help with thatch issues. The small holes close very quickly and never allow much nutrients, water, air or fertilizer into the soil.
New homes need core aeration. Often, because builders just throw down grass seed without prepping your soil. Then you're left with a lawn that has been trampled by heavy machinery and is compacted immediately. If your lawn is compacted, your lawn will be thin and unhealthy. It is recommended to aerate your lawn twice a year. Golf courses at the very minimum core aerate twice a year and more than not aerate almost monthly.
Should Homeowners in Richfield Ohio Hire a Lawn Care Company for Core Aeration?
In this case, unless you are set on sweating it out on your own lawn in Richfield Ohio, it's easiest to hire a lawn care company to do this. If you want to do a DIY, you can rent core aerators from $100 to $200 plus. To purchase one would run you more than you want to spend plus the high maintenance they require can be a lot of work. It's best to let the lawn care professionals take care of aeration with their commercial equipment while you sit back and enjoy your beautiful lawn.
Ready to find out more?
If you would like to hire a professional a core aeration company in Akron Ohio or in it's surrounding areas call 4 Seasons Services today for a free estimate at: 330-620-6200