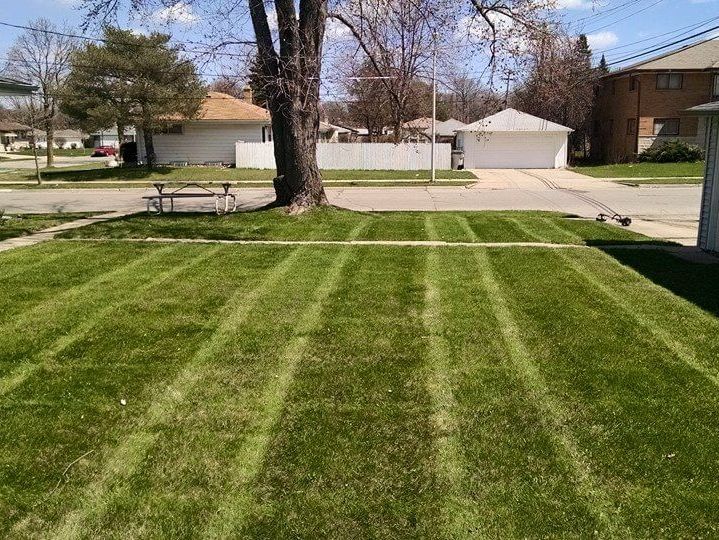 Quality Lawn Mowing
Many things we do here at 4 Seasons Services are simply meant to make your life easier in Coventry Township Ohio  From monthly mailed invoices to always mowing at the highest standards and an honest-to-goodness 100 percent satisfaction guarantee. 4 Seasons Services tries to keep our service predictable and convenient.
Hire a Professional
We use professional equipment that is gentle on your lawn by using only walk behind and stand on mowers versus riding zero turn mowers that many other companies use that weigh much more.
Your lawn will be more susceptible to turf tearing and rutting by using sit down mowers. Lawn mowing by 4 Seasons Services stripes lawns to perfection, trims all obstacles in your lawn and remembers to blow off all hard surfaces on and around your property.
Additional Services
We offer many additional services to residential or commercial clients. For example fertilization, weed control, core aeration, clean ups, flower bed maintenance, small tree and hedge pruning.
FREE estimates, flexible payment options, and experience, and you'll get the best value in lawn maintenance when you choose 4 Seasons Services in Coventry Township OH. There's no shame in calling in the experts and we make having a gorgeous, manicured lawn easy.
Custom Lawn Treatment with Premium Fertilization & Weed Control
Here at 4 Seasons Services we offer a unique lawn maintenance program and great prices on our five or six application programs. We guarantee you will be 100% satisfied and you can cancel anytime. Our unique approach allows the custom tailoring of your lawn care services.

Thank you for doing such a wonderful job.

Sandra B Coventry Township OH
You guys did a perfect job maintaining our lawn. Thank you.

Edith M of Coventry, Ohio
Ready to find out more?
Contact us today by phone, text or email for a free quote at: 330-620-6200 or 4Seasons_srvc@att.net
| Lawn Mowing Coventry Township OH | 44319 |
Coventry Township Residents
Still have questions?
Click HERE to find out more about our Professional Services.