Grub Treatments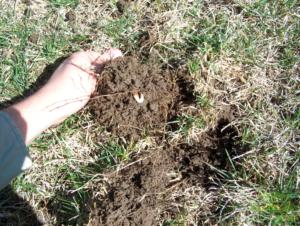 If you are looking for a service for your grub treatments 4 Seasons Services are experts in grub control in the local area. Grubs are the immature larva of several different types of beetles. Grubs will mature through several stages in their life cycle that lasts 1 to 3 years depending on the  specie. In Ohio beetles usually lay eggs during the summer months and the adults emerge the following spring or summer once the grubs have matured. Grubs will live in the soil and receive their nourishment by feeding on grass roots, thatch, and decaying organic matter. Healthy turf can tolerate 4-6 grubs per square foot of grass.
Grub Life Cycle
Calendar of Life Cycle: Once eggs hatch, the first stage of the grubs development results in 0.1 inch small grubs that are translucent. At this stage they begin feeding on turfgrass roots. After 2-3 weeks the grubs will develop to the next stage and will start to look blackish to gray in appearance. This second stage will only last for 3-4 weeks before they begin the 3rd and final grub stage. Mature grubs will reach about 1 inch in length. Feeding continues into fall and early winter. Cold weather will force grubs deeper in the soil. In March and early April, the grubs will move back up into the root zone and resume their feeding. After a few weeks, the adults emerge from the soil, mate, feed, and begin their life cycle all over again by laying eggs.
Our applications are effective and timely for the treatment of grubs. It is a great application to ad to your fertilization and weed control program to have a happy and healthy lawn. Contact 4 Seasons Services today for your grub treatment.
Next Steps...
Call 4 Seasons Services Today for your Free Estimate on Grub Control Services . 
Or Fill out our contact form below for a no obligation Free Estimate